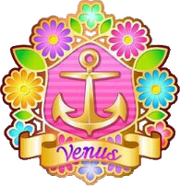 Venus Ark (ヴィーナスアーク, Venus Ark) is an idol academy in a form of a cruise ship that sails around the world to scout for talented idols to join them. It is the rival school against Four Star Academy.
As of Episode 90, Venus Ark has been announced for shut down, expelling all students by March of the year in which the second season takes place.
Classes
Uniform
A white and lavender button up top underneath a yellow vest and white blazer with golden trim. The blazer also has lavender cuffs with golden trim and lace and pockets with pink trim. The skirt is also lavender with a golden stripe toward the bottom and white lace underneath. The skirt also has 2 golden buckles on it. The top has a pink ribbon on it held in place with a golden flower. The uniform also has bright pink socks with golden stripes and the footwear consists of white shoes with pink ribbons held with yellow flowers.
Track Suit
A white jacket with cuffs and a swirly design in each idol's respective color. Pink for cute, blue for cool, purple for sexy, and green for pop. The jacket collar has a yellow star shaped stud on it. The pants are also in the different idol colors.
Notable Staff
Notable Students
Dahlia W
J.J. Erika
Margaret S
Marie M
Former
Route
Revealed in episode 71, Venus Ark plans to visit the following locations after departing Japan. The brackets are the estimated cities that the school will visit based on the map in the anime:
Singapore
Myanmar (Sittwe)
India (Kanyakumari)
Greece (Athens)
Italy (Rome)
Spain (Santander)
France (Saint Nazaire)
United Kingdom (Liverpool)
Germany (Cuxhaven)
Poland (Gdańsk)
Lithuania (Klaipėda)
Finland (Helsinki)
Norway (Oslo)
Trivia
This is the first school in the entire Aikatsu! franchise to not have a word that means "school" or "academy" in its name.
This is the second school in the entire Aikatsu! franchise where the headmistress is a top idol, preceded by Starlight School.

However, it is the first school where the headmistress is an active top idol, as Orihime Mitsuishi retired prior to the beginning of the series.

This is the first school to be established for personal benefits instead of nurturing idols.
Based on the map revealed in Episode 71, Venus Ark could possibly be based in Norway, as it served as the current tour's final stop.
Gallery