"Aikatsu, Aikatsu! My effort isn't enough! I'm going to start practicing more!"

This article is a stub. You can help Aikatsu Stars! Wikia by expanding it.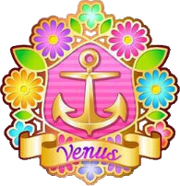 Venus Ark (ヴィーナスアーク, Venus Ark) is an idol academy in a form of a cruise ship that sails around the world to scout for talented idols to join them. It is the rival school against Four Star Academy.
Classes
Uniform
A white and lavender button up top underneath a yellow vest and white blazer with golden trim. The blazer also has lavender cuffs with golden trim and lace and pockets with pink trim. The skirt is also lavender with a golden stripe toward the bottom and white lace underneath. The skirt also has 2 golden buckles on it. The top has a pink ribbon on it held in place with a golden flower. The uniform also has bright pink socks with golden stripes and the footwear consists of white shoes with pink ribbons held with yellow flowers.
Track Suit
A white jacket with cuffs and a swirly design in each idol's respective color. Pink for cute, blue for cool, purple for sexy, and green for pop. The jacket collar has a yellow star shaped stud on it. The pants are also in the different idol colors.
Notable Staff
Notable Students
Other
Former
Trivia
Gallery
Ad blocker interference detected!
Wikia is a free-to-use site that makes money from advertising. We have a modified experience for viewers using ad blockers

Wikia is not accessible if you've made further modifications. Remove the custom ad blocker rule(s) and the page will load as expected.