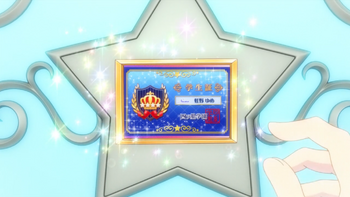 Student Cards (学生証, Gakuseishō) is a student ID that represents a student of an idol school.
In the anime, they are used to identify the student accessing the Aikatsu System.
In the Data Carddass Aikatsu Stars! game, these cards function as IC cards to save data, such as player history and their original characters.
Gallery
Data Carddass Aikatsu! Appearance
Anime Appearance
Ad blocker interference detected!
Wikia is a free-to-use site that makes money from advertising. We have a modified experience for viewers using ad blockers

Wikia is not accessible if you've made further modifications. Remove the custom ad blocker rule(s) and the page will load as expected.