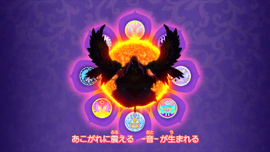 Star Premium Dresses (スタープレミアムドレス, Sutā Puremiamu Doresu) is the latest special system featured in the Data Carddass Aikatsu Stars! Wings of Stars series. These cards are featured within the Aikatsu System. 
System
The Star Premium Dresses are all originally Premium Rare dresses. When the Aikatsu! System acknowledges you as a perfect idol, the Wings of Stars is granted, upgrading the dress to a star Premium rarity.
The perfect dress that surpasses the Premium Rare dresses.
After obtaining the Wings of Stars, the current accessory will now feature a pair of wings, and one would also gain the Proof of Stars. The original earrings that comes with the accessory will also have its left one changed to the corresponding star emblem.
There are a total of 9 Wings of Stars: Mercury, Venus, Mars, Earth, Jupiter, Saturn, Uranus and Neptune. The Wings correlate with the planets of the solar system, and it also includes the former-Solar System planet, Pluto. When all the Wings of Stars are collected and combined into one, the Wings of the Sun, the Sun's Star Premium Dress will be born.
Yukie Grace Forte, a previous owner of the Sun Wings mentioned that the Sun Wings' appearance cannot be predicted, and that Star Premium Dresses can be reborn overtime and is not limited to only one generation.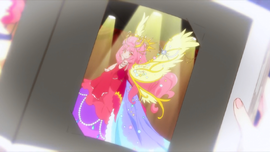 List of Known Star Premium Coords
The following list is in chronological order of anime appearance.
Origin
Name
Image
Brand
Star
Wings of Stars Series
Part 2
Blooming Queen Coord



Venus
(

金星


Kin-sei)
Rosetta Thorn Coord



Pluto
(

冥王星


Meiō-sei)
Sweet Dreams Coord



Mercury
(水星


Sui-sei

)
Wings of Stars Series
Part 2
Daylight Festival Coord



Neptune
(海王星


Kaiō-sei

)
Rock My Heart Coord



Mars
(火星


Ka-sei

)
Wings of Stars Series
Part 3
Tropical Beach Coord



Saturn
(土星


Do-sei

)
Rainbow Étoile Coord





Earth
(地球
, Chikyū)

Wings of Stars Series
Part 4
Floral Fantasia Coord



Jupiter
(木星


Moku-sei

)
Innocent Prince Coord



Uranus
(天王星


Ten'nō-sei

)
Wings of Stars Series
Part 5
Eternal Queen Coord



Sun
(太陽


Taiyō

)
Trivia
This is the first system where the dress itself is not Star Premium Rare, but upgraded from a Premium Rare Coord.
This is the first system where when all Star Premium Rares combine, it creates an ultimate Star Premium Rare.
The emblems of the Proof of Wings has a change in general design after the debut of the Sweet Dreams Coord:

The Blooming Queen, Rosetta Thorn and Sweet Dreams Coord's emblems are more of a general concept of the wings.
The rest of the emblems are a simplified version of the actual wings, highly resembling each other.
Ad blocker interference detected!
Wikia is a free-to-use site that makes money from advertising. We have a modified experience for viewers using ad blockers

Wikia is not accessible if you've made further modifications. Remove the custom ad blocker rule(s) and the page will load as expected.