Pink New Year Coord
桃色ニューイヤーコーデ
Statistics
Type
Cute
Brand
None
Rarity
Normal
First Appearance
Data Carddass Game
Promotion Cards

 Pink New Year Coord (桃色ニューイヤーコーデ, Pink New Year Coord) is a normal brandless cute coord. It will debut in the promotional collection of the Data Carddass Aikatsu Stars! series and it has yet to be seen in the anime.
Description
Pink New Year Top
A silk pink top styled after a kimono, accent by a pattern of white lines and several hearts coming in pink, pastel orange, pale blue, red, and lavender. Lining the chest and sleeves is a strip of pink lined in gold, along with a trim of white frills. A blue and gold obi wraps around the chest with pink and white frills accent with tiny pink bows and a white ruffled trim. Sewn to the left of the chest is a red ribbon lined in gold with a pink flower.
Pink New Year Skirt
A skirt to match the top, cut down the center to reveal a red gingham pleat section resting over white frills. On each side of the waist rests a pink bow with pearl chains hanging from them to the back. Pink ruffles are sewn along the hem.
Pink New Year Shoes
Gold sandals with pink straps worn with a pair of pearl pink toe socks. Two pearl chains wrap around the ankle, attached by a tiny bow. Comes with white stockings lined in pink with hearts printed on the sides. The cuff is blue.
New Year Accessory
A pink gingham headband lined with pale pink-white frills. On each side rests a red ribbon lined with gold frills. Comes with gold dangle earrings with a heart shape on the bottom, accent with a smaller pink heart.
Dress Items
Tops
Bottom
Shoes

Pink New Year Top

Pink New Year Skirt

Pink New Year Shoes

Accessories

New Year Accessory
Trivia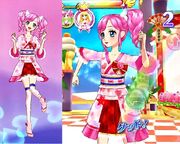 This coord was copied from an un-released Angely Sugar coord in the original Aikatsu! series.

It is the second coord to be taken from the original, the first being the Dressy Santa Coord.

The New Year Accessory is a color variation of the Blue Girlish Ribbon Headband from Girlish Ribbon Coord, resulting in being part of the My Little Heart brand items while the other parts are not.
Gallery