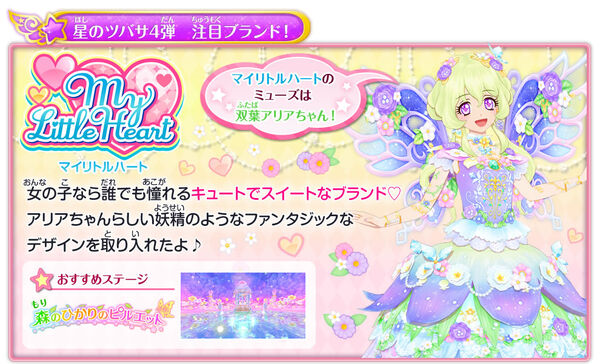 My Little Heart (マイリトルハート, My Little Heart) is a cute brand that debuted in the Data Carddass Aikatsu Stars! Part 1 and debuted in Season 1 of the anime. It is founded by Hime Shiratori, and the current muse is Aria Futaba. It is also the brand Yume Nijino commonly used in Season 1.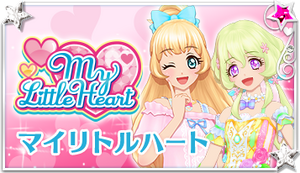 About
Brand Concept
A cute and sweet brand that is adored by any girl♪ Using plentiful amounts of lovely motifs such as ribbons, hearts and laces to create a cute design is what My Little Heart is known for! Not only does the brand use pastel colors, it also uses pastel neon colors, as well as aurora colors to create the brand's dream-like designs☆
Known Users
Chronology
Cardlist
Data Carddass Aikatsu Stars! Collection Cards
Promotional Cards
Coords
Gallery
Main article: My Little Heart/Image gallery
Trivia
Ad blocker interference detected!
Wikia is a free-to-use site that makes money from advertising. We have a modified experience for viewers using ad blockers

Wikia is not accessible if you've made further modifications. Remove the custom ad blocker rule(s) and the page will load as expected.