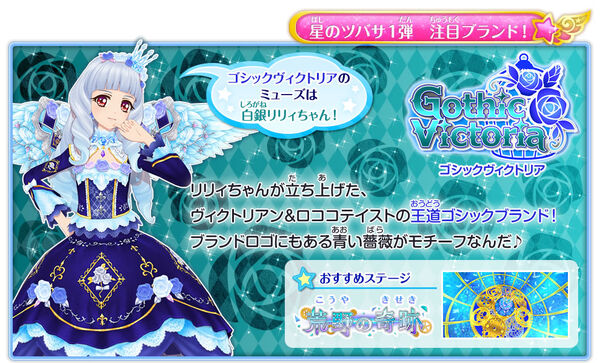 Gothic Victoria (ゴシックヴィクトリア, Gothic Victoria) is a cool brand that debuted in Data Carddass Aikatsu Stars! Part 4 and in episode 39 of the anime. It is founded by Lilie Shirogane.

Background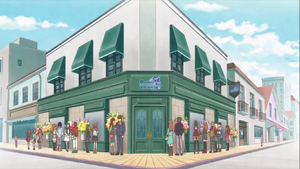 Gothic Victoria is a newly founded company that makes the Victorian and Rococo-style gothic outfits. The brand was founded after Lilie won the "Brand Designer Audition" contest.
Brand Concept
A Victorian and Rococo gothic brand leads you down to the road of royalty! A mysterious brand with the concepts of formality and gracefulness. The highlights of the designs would be its motif of narrativity, as well as its elegance of the Victorian Era.
The logo of the brand incorporates the Blue Rose as its motif.
Known Users
Chronology
Cardlist
Data Carddass Aikatsu Stars! Collection Cards
Promotional Cards
Coords
Gallery
Main article: Gothic Victoria/Image gallery
Trivia
Ad blocker interference detected!
Wikia is a free-to-use site that makes money from advertising. We have a modified experience for viewers using ad blockers

Wikia is not accessible if you've made further modifications. Remove the custom ad blocker rule(s) and the page will load as expected.