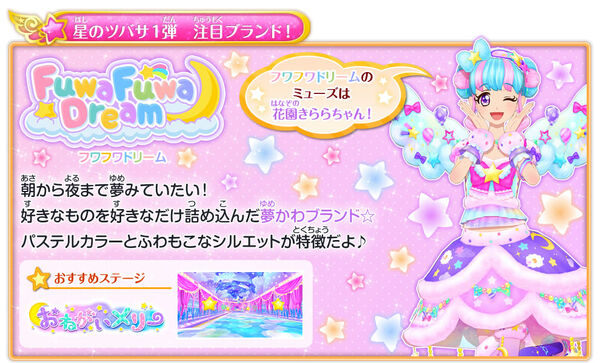 FuwaFuwa Dream (フワフワドリーム, FuwaFuwa Dream) is a pop brand that debuted in Data Carddass Aikatsu Stars! Wings of Stars - Part 1 and in Episode 54 of the anime. The brand's muse is Kirara Hanazono.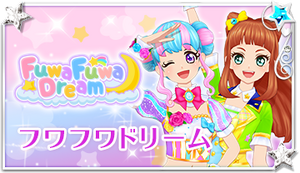 About
Brand Concept
The desire to dream from day to night! A dreamy and cute brand to stuff in all that you like as much as you want☆ Adding a pop touch to it increases the cuteness! The coords' highlights are its soft, dream-like, floaty designs.
Known Users
Chronology
Cardlist
Data Carddass Aikatsu Stars! Collection Cards
Promotional Cards
Coords
Gallery
Main article: FuwaFuwa Dream/Image gallery
Trivia
Ako Saotome was originally planning to be this brand's muse.
Ad blocker interference detected!
Wikia is a free-to-use site that makes money from advertising. We have a modified experience for viewers using ad blockers

Wikia is not accessible if you've made further modifications. Remove the custom ad blocker rule(s) and the page will load as expected.