The Fitting Room (フィッティングルーム, Fitting Room) is a device seen in the anime, Aikatsu Stars!. It is used to put the idol into her desired coord set and take her to the stage.
Description and Usage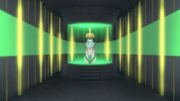 A user enters a dark-grey hallway lined with yellow and green lights. The main platform that is lit in green of the fitting room is located at the end, with a stand placed at the center of the raised platform. When the user steps onto the platform, the hallway will glow dark blue with different colored neon lights, with the main platform now lit in yellow.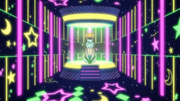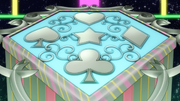 The top of the stand is made up of five symbols: a star, a heart, a diamond, a club, and a spade. A small platform is raised from the star, and the user inserts their student ID into the small platform. The end of the hallway then begins to glow, blinding the hallway in an aurora light that goes outwards, and creates a pink heart door frame with an ice blue curtain at the center.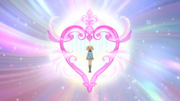 Platforms are raised from the other four symbols (three if no accessory included), and the Top is inserted into the heart; Skirt into the spade; Shoes into the diamond and Accessory into the clubs. The platform then disappears and the curtains open, allowing the user to enter the virtual space that allows the desired dress to fit onto the user.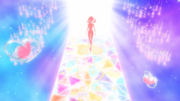 Once passed through, the person will find themselves on a prism designed "runway" that ends before steps that leads up to the chosen cards. The user then runs along the runway and jumps up onto each step to pass through the cards. By going through these cards, it dresses up the person from the contents contained in the cards. The person will be dressed up with a top, a bottom, and a pair of shoes, which are the cards placed on the platform. Once fully dressed up, the person will be decorated with blush, and will have a 360 degrees view of their outfit, and will then proceed directly to the stage.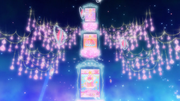 The background of the virtual space shows a starry blue sky with light blue shooting stars, decorated with chandeliers with glass ornaments hanging from the chains, as well as floating orbs that contains a symbol in its silver framing. The color of the platform, glass ornaments, and symbol of the floating orbs are determined by the type of the stage.
Gallery
Ad blocker interference detected!
Wikia is a free-to-use site that makes money from advertising. We have a modified experience for viewers using ad blockers

Wikia is not accessible if you've made further modifications. Remove the custom ad blocker rule(s) and the page will load as expected.