Bright Dressy Santa Coord
Bright Dressy Santa Coord
ブライトドレッシーサンタコーデ
Statistics
Type
Sexy
Brand
Romance Kiss
Rarity
Campaign Rare
First Appearance
Data Carddass Game
Part 4

 Bright Dressy Santa Coord (ブライトドレッシーサンタコーデ, Bright Dressy Santa Coord) is a campaign rare coord made by the sexy brand Romance Kiss. It debuted in Part 4 of the Data Carddass Aikatsu Stars! series as part of the Christmas 2016 Campaign and has yet to be seen in the anime.
Description
Bright Dressy Santa Top
A red camisole with gold glitter and a slight ruffle, cut to reveal dark purple lace. A fluffy white trim wraps around the top, adorned with a fuchsia ribbon to match the ribbon wrapped behind the neck. Two gold chains hang from the bow, one made of chain links, the other made of beads. Comes with lavender opera gloves, cut to shape on top of the hand with the fingers cut out, adorned with a fluffy cuff and a fuchsia ribbon on the wrist with a gold ornament.
Bright Dressy Santa Skirt
A short red skirt with gold glitter and slight ruffle. Lavender lace sticks out from the bottom. On each side of the skirt is a section of dark purple, lined in gold with fuchsia ribbon straps, adorned with a ribbon accent with a single fluffy pom-pom. On each side of the waist rests a gold sphere with two chains between them, one made of chain links, one beaded.
Bright Dressy Santa Boots
Red short boots with dark purple string and sole. The fluffy cuff has a fuchsia ribbon sewn to the side. Comes with dull purple mesh tights with small amounts of gold glitter applied randomly. On the left thigh rests a fluffy cuff with a fuchsia bow holding a gold bell. Two chains hang from it, one made of links, the other beads.
Dressy Santa Accessory
A red Santa hat with gold glitter designs and a pale pink-white trim to match the pom-pom sewn to the tip. A pink silk ribbon lined in gold rests on the corner with a gold bell in the center. Comes with gold dangle earrings with a pink and gold silk bow adorned with a gold heart.
Dress Items
Tops
Bottoms
Shoes

Bright Dressy Santa Top

Bright Dressy Santa Skirt

Bright Dressy Santa Boots

Accessories

Dressy Santa Accessory
Trivia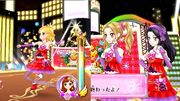 The Dressy Santa Coord originated from the original Aikatsu! series in 2015. It was one of the un-released coords only shown in game play and was worn by the current characters.
Gallery
Official Art
Ad blocker interference detected!
Wikia is a free-to-use site that makes money from advertising. We have a modified experience for viewers using ad blockers

Wikia is not accessible if you've made further modifications. Remove the custom ad blocker rule(s) and the page will load as expected.