Aikatsu Stars! Furikake and Curry
is a set of food products released June 2, 2016. Furikake is a sprinkle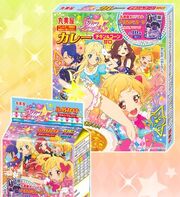 product for flavoring rice, fish, and vegetables. The flavoring of Curry is chicken and sweet corn.
Information
Price of Furikake - 238
Price of Curry - 140
Content
Curry Pack __
Furikake ___
Card x10
Appearance
Both boxes feature S4, with one box featuring them in their School based coords, and another featuring them in their uniforms in alternate poses. Yume poses before them wearing her school coord in both. The background is a gradient soft shading of rainbow colors, with the curry adorned with gold ornate stars and smaller colored stars. The Furikake features various white sparkle markings, yellow stars, and white lined stars. Both boxes have milk-blue detail on the flaps and sides.
Gallery
Cards
| | |
| --- | --- |
| P   1-16-④-a | Ribbon Candy No Sleeve |
Type
Category
Rarity
Tops
Normal
Dress Appeal
Appeal Point
Grade Up
Cute Charm
300
-
Dress Glitter

Notes
Aikatsu Stars! Sprinkle Mini Pack,
Aikatsu Stars! Curry <Chicken & Corn Flavour>
---
| | |
| --- | --- |
| P   1-17-④-a | Ribbon Candy Mini Skirt |
Type
Category
Rarity
Bottoms
Normal
Dress Appeal
Appeal Point
Grade Up
Cute Charm
300
-
Dress Glitter

Notes
Aikatsu Stars! Sprinkle Mini Pack,
Aikatsu Stars! Curry <Chicken & Corn Flavour>
---
| | |
| --- | --- |
| P   1-18-④-a | Ribbon Candy Pumps |
Type
Category
Rarity
Shoes
Normal
Dress Appeal
Appeal Point
Grade Up
Cute Charm
250
-
Dress Glitter

Notes
Aikatsu Stars! Sprinkle Mini Pack,
Aikatsu Stars! Curry <Chicken & Corn Flavour>
---
| | |
| --- | --- |
| P   1‐28‐④‐b | Star Line Vest |
Type
Category
Rarity
Tops
Normal
Dress Appeal
Appeal Point
Grade Up
Cool Charm
300
Dress Glitter

Notes
Aikatsu Stars! Sprinkle Mini Pack,
Aikatsu Stars! Curry <Chicken & Corn Flavour>
---
| | |
| --- | --- |
| P   1‐52‐④‐b | Crystal Violet Blouse |
Type
Category
Rarity
Tops
Normal
Dress Appeal
Appeal Point
Grade Up
Sexy Charm
250
-
Dress Glitter

Notes
Aikatsu Stars! Sprinkle Mini Pack,
Aikatsu Stars! Curry <Chicken & Corn Flavour>
---
| | |
| --- | --- |
| P   1‐47‐④‐b | Crystal Violet Frill Pants |
Type
Category
Rarity
Bottoms
Normal
Dress Appeal
Appeal Point
Grade Up
Sexy Charm
300
-
Dress Glitter

Notes
Aikatsu Stars! Sprinkle Mini Pack,
Aikatsu Stars! Curry <Chicken & Corn Flavour>
---
| | |
| --- | --- |
| P   1-48-④-b | Crystal Violet Pumps |
Type
Category
Rarity
Shoes
Normal
Dress Appeal
Appeal Point
Grade Up
Sexy Charm
300
-
Dress Glitter

Notes
Aikatsu Stars! Sprinkle Mini Pack,
Aikatsu Stars! Curry <Chicken & Corn Flavour>
---
| | |
| --- | --- |
| P   1-64-④-b | Chain Puzzle Jacket |
Type
Category
Rarity
Tops
Normal
Dress Appeal
Appeal Point
Grade Up
Pop Charm
300
Dress Glitter

Notes
Aikatsu Stars! Sprinkle Mini Pack,
Aikatsu Stars! Curry <Chicken & Corn Flavour>
---
| | |
| --- | --- |
| P   1-65-④-b | Chain Puzzle Shorts |
Type
Category
Rarity
Bottoms
Normal
Dress Appeal
Appeal Point
Grade Up
Pop Charm
300
Dress Glitter

Notes
Aikatsu Stars! Sprinkle Mini Pack,
Aikatsu Stars! Curry <Chicken & Corn Flavour>
---
| | |
| --- | --- |
| P   1-66-④-b | Chain Puzzle Sneakers |
Type
Category
Rarity
Shoes
Normal
Dress Appeal
Appeal Point
Grade Up
Pop Charm
250
Dress Glitter

Notes
Aikatsu Stars! Sprinkle Mini Pack,
Aikatsu Stars! Curry <Chicken & Corn Flavour>
---